Empire Magazine as part of their eight-page coverage on The Last Jedi for their October issue has revealed two new images of the movie.
On this first picture, you can see Poe's X-Wing heading towards the Dreadnought, a new super destroyer that was revealed recently. Behind it you can see a First Order Resurgent-class Star Destroyer and an asteroid belt so it's probably safe to say that this is taking place above D'Qar, the Resistance planet seen in The Force Awakens. Poe's starfighter has received a new upgrade for the movie as Rian Johnson explains it has "been specially modified by Resistance engineers, with a temporary accelerator pod affixed to the aft section. According to The Last Jedi director, the pod, when primed, increases Dameron's speed, allowing him to outrun First Order cannon emplacements. It's just a temporary boost and will burn out quickly but it's enough to get beyond the barrage of turbo laser fire from First Order Star Destroyers."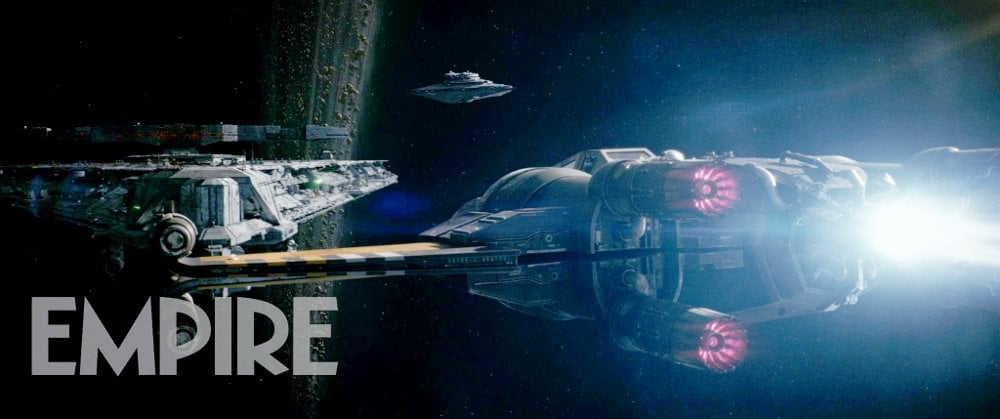 The second picture features Rose and Finn on the casino city of Canto Bight located on the planet Cantonica. On this image, Rose doesn't seem to happy! You can also see the strange alien behind them that was revealed during the Vanity Fair coverage about the movie. Here's what the article says about Canto Bight:
"Canto Bight isn't just another chance for Neal Scanlan's creature shop to cut loose designing an alien menagerie but plays a key part in the story, right around the movie's halfway mark. John Boyega's Finn and Kelly Marie Tran's Rose find themselves among the high rollers on a vital mission that we won't spoil here."
Rian Johnson also adds "I wanted a new environment that was like dunking your head in a cool bath of water, right in the middle of movie. Apart from the prequels, all the touchstones that make something feel like Star Wars have to do with griminess and dirt. I wanted to do something completely different."
The October issue of Empire Magazine will be on sale this Thursday.